Sept 2013

Contemporary Dance Class
At Crescent Arts Centre
Wednesdays 8:00-9:00pm (15+ yrs) | 12 weeks: 18 Sept to 11 Dec | £75/£67/£60
A contemporary class aimed at those who wish to further their technique and contemporary dance knowledge.
The class will be taught in a classical approach against an urban sound. The class will cover a variety of techniques combined into release-based sequential movement phrases; with focus on applying dance technique in movement.

The class is also suitable for dancers who have had time out from training/performing.
A 20% discount is available when you book this class along with 771 Jazz Dance Intermediate & Advanced.

Sept 2013
Intermediate/ Advanced Jazz Dance Class
At Crescent Arts Centre
Wednesdays 7:00-8:00pm (15+ yrs) | 12 weeks: 18 Sept to 11 Dec £75/£67/£60
Suitable for people with some dance training or who are coming back to dance after a break.
Routines are a fusion of commercial street and lyrical dance to different music genres.
New Routine every three weeks with a run through on the final week of term.
A 20% discount is available when you book this class along with 867 Contemporary Dance Intermediate.

August 2013
Ardán Dance Festival - Arthur Guinness Project Fund.
Gary Rowntree has submitted a project request to the Arthur Guinness Fund. The first stage requires as many votes on social networks such as Facebook or twitter, before it makes shortlist.
Check it out here:
https://www.arthurguinnessprojects.com/arts/ardn-dance-festival
Thank you

June 2013
Cloud Dance Festival - London.
Gary Rowntree | Dance has been selected from hundreds of contemporary dance companies to perform at Cloud Dance Festival in London this July.
We will be performing our new work 'The Light' which was first explored during the Research and Development project in April.
'The Light' is A solo performance choreographed by Gary Rowntree that explores an internal fight with one's self to escape... 'Is there light at the end of the tunnel... or does the fight just begin'?
The solo performance will be performed by contemporary dance artist: Oona Doherty.
We are currently seeking funding support for flights, festival fee, rehearsal space and costumes. You can help fund this fantastic opportunity by donating whatever you can - nothing is too small. We will perform on Saturday 6th July 2013. For more information and to book tickets check out Cloud Dance Festival Website.

FREE PROFESSIONAL CLASS.
Gary Rowntree | Dance will enter into rehearsals on Tuesday for Research and Development and will open morning class to professional dancers.
Class will take place at the Crescent Arts Centre; in the studio on the ground floor from Tuesday 9th until Friday 12th.
9am until 10:15am
To book your place email:
garyrowntreedance@outlook.com
Class is Free and all professional dancers are welcome.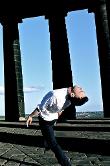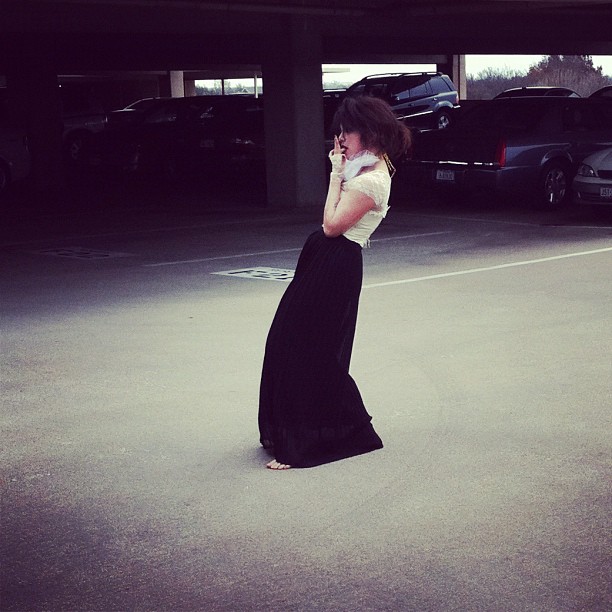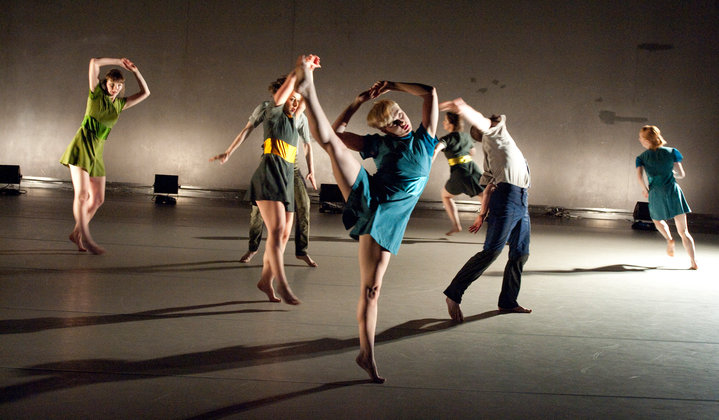 April 2013
Research and Development.
Gary Rowntree | Dance will enter into an intensive week working with three top International dance artists. The three dance artists (Above Left to Right):Lauren Douglas (Guyer) (USA,IRE), Anthony Lo-Giudice (UK) and Oona Doherty(UK,NL) will work intensively with Gary Rowntree in developing new and innovative ways to challenge and create contemporary dance. We are very excited for this project and must give thanks to ACNI for funding the project.
The project commences on Tuesday 9th April until Friday 12th April at the Crescent Arts Centre, Belfast.
There will be an open studio sharing for all artists to attend on Friday 12th around 4pm.
Keep up to date on Facebook and Twitter.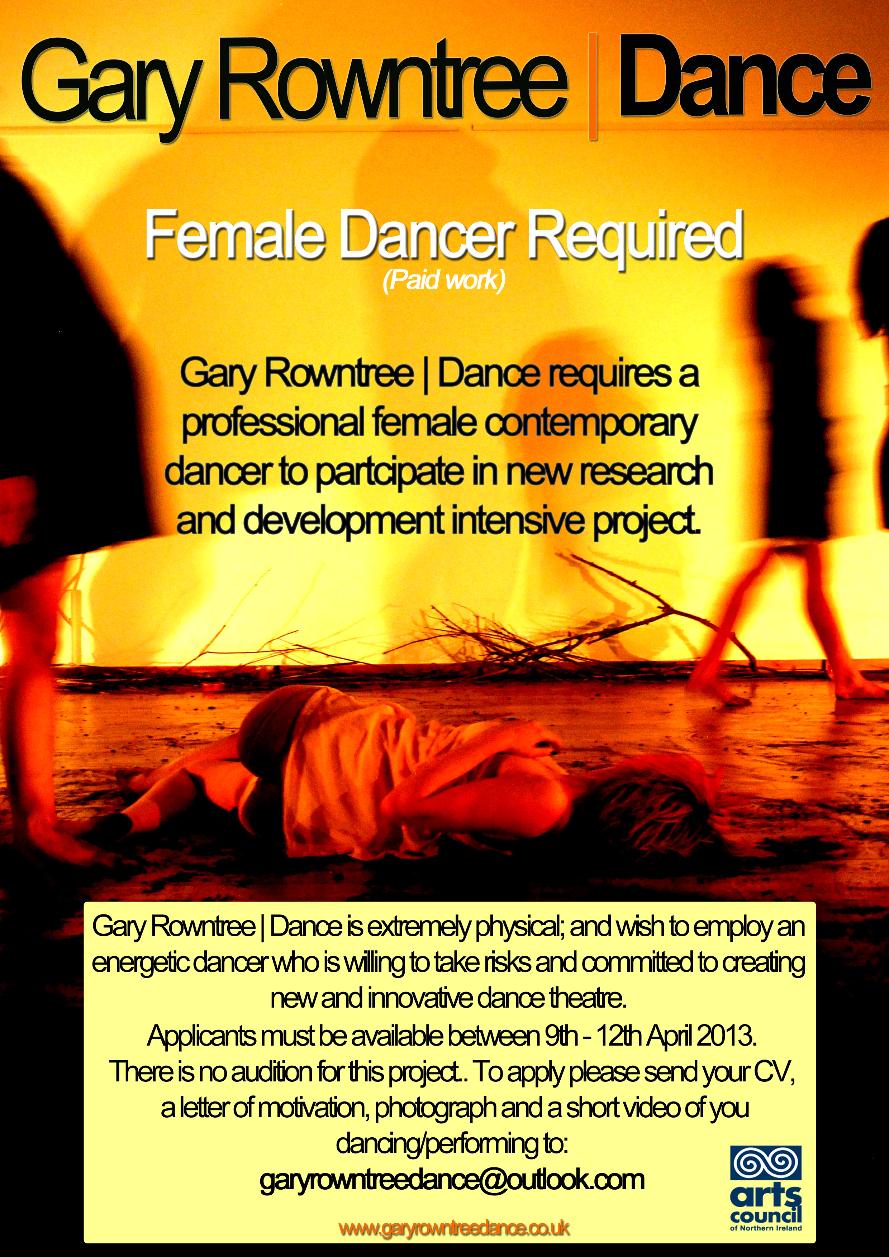 February 2013
JOB: Female Dancer Required.
Gary Rowntree | Dance is extremely physical, and wish to employ an energetic dancer who is willing to take risks and committed to creating new and innovative dance theatre.
Applicants must be available between 9th - 12th April 2013.
This is a Research and Development project and is based in Belfast, Northern Ireland.
There is no audition for this project.
To Apply please send your CV, a letter of motivation, photograph and a short video of you dancing/ performing.
Gary Rowntree | Dance - Contemporary Dance Belfast, Northern Ireland.
Email: garyrowntreedance@outlook.com, Call: 07532183440, Facebook: Gary Rowntree | Dance, Twitter: @growntreedance
© Gary Rowntree | Dance 2013